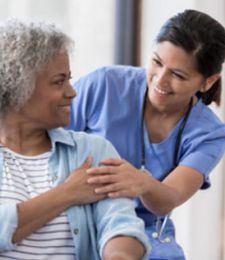 Our approach is to offer a continuum of professional resource needed to bring the highest levels of care and compassion to every patient and family we serve. It is never too early to help our patients make the most of their life, and we want to make every second as comfortable for the patient as possible.
Let Audubon Hospice manage disease processes & symptom control in the comfort of the patient's home.
Nursing Care
Medical Social Workers
Hospice Aides
Chaplain (Non-Denominational. Spiritual Advisor)
Medical Director
Bereavement Counselor
Qualified Volunteers
Hospice Team Available 24/7
Medications & Equipment Covered
Our sister company, Audubon Hospice, has an individual site and their full details can be viewed by clicking here.